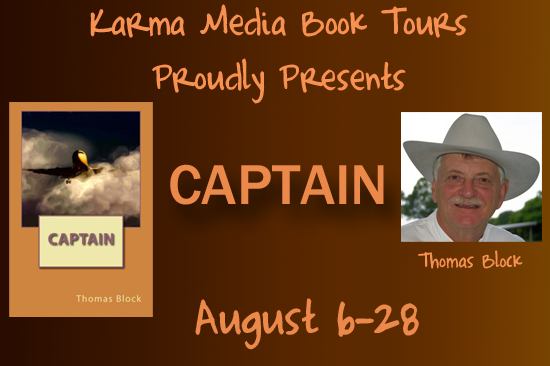 Author: Thomas Block
Follow The Author: Facebook/Facebook (author)/Goodreads
Buy it: Amazon/Barnsnoble
Read reviews: Goodreads
Synopsis:
Captain is an aviation, suspense thriller that will keep you on the edge of your seat till the final page. It offers readers an inside look into corporate greed, crippling fear, and the epicenter of every flight that has ever been flown: the cockpit, the pilots, and the feelings felt during impending doom. Follow along as the individual actions and feelings of each character intersect to bring the reader on one amazing ride.
We are quickly introduced to the sides of aviation. Yes, sides. We see multiple point of views, all on the same situation. A flight on its way back to America has had both engines run away, an impossible scenario that today's newer, by the book pilots can't wrap their heads around. On the other side we have corporate aviation, the ones who care only for numbers, and well money.
Finally, and perhaps the most intriguing of them all are the older pilots. Ray and Jack most specifically, but many more are involved on the now corporate side. These are very men (and women) who have been flying since a time before computers, a time prior to auto pilot. These prestigious pilots are from a generation where the rule book wasn't much more than a set of guidelines. At times they may push boundaries, but they understand and respect the airplanes they are tasked to fly.
During a heated battle in the cockpit of Flight 3, a new-breed pilot faces off against an old timer (Ray) to fix the runaway engines, a gun shot goes off, followed by another. A radio message is relayed that alerts the corporation to the flight being hijacked, and a repeat of 9/11 is underway. With the problem seemingly fixed, it's now up to the former Captain to safely land the plane, but they have a vast, icy cold, and deadly ocean to cross with nothing but his own two hands, and eyes as his guide.
The corporation must go off of the only facts they have, or so they tell the many ex-pilots working on the situation. Greed, secrets, and a boat load of money must be protected though, and soon the truth is stretched beyond belief as Homeland Defense and the TSA are brought into the search for the missing flight.
My Opinion:
I don't read a lot of suspense novels, though books I do enjoy contain this element in one form or another. For some this tidbit may not matter, but it is always a good idea to understand what the reviewer enjoys on a regular basis. If you are a regular reader of Literary Sweets, than this is a standard in my reviews that are not my normal genres.
The pacing felt right, perfect even as each chapter gave just enough, not to little or too much, to keep you engaged. I understand the importance of this factor when reading suspense, action, and mystery genre stories, but I truly felt the author had a distinct knack for keeping his audience in the now. I didn't find myself hung-up on any of the lingo, but my grandfather and great uncle were both pilots. In fact that is what drew me to this story when I was asked to review it; I love aviation.
There were many side stories to fully complement the plot, and I felt that the author did a fantastic job at meticulously creating his characters, seamlessly weaving them into his plot. We have a good idea about the differences in the older pilots when compared to the newer ones, but what I liked was Linda Erikson, a younger pilot flying flight 3, that understood that the book, the rules, sometimes they needed to be broken in order to save lives. A great writer once said that if an author doesn't care about their characters then the plot would suffer. Well both were fantastically written, and integrated in my opinion.
Due to language during intense moments, I would recommend Captain to those 17 or older. However older teens (and adults) who love suspense or aviation based stories would also enjoy it. This one will send chills down your spine as you experience the fear, greed, and the fight for survival when all the odds are placed against you.
Welcome to another great Karma Media Book Tour, where you will find honest reviews and insights into today's authors and books.
Each tour stop is unique, so remember to check back with the tour daily.  View the entire tour schedule here:
This tour will feature:
Author: Thomas Block 
Featuring the book: Captain
CreateSpace (April 7, 2012) – 348 Pages
Available in Paperback and Kindle ($16.99/$6.99)
Action/Adventure/Thriller

About the Author:
Thomas Block has written a number of aviation-oriented novels, many which have gone on to acquire best-seller status in numerous countries. His novel writing began with the publication of "Mayday" in 1979. That novel was rewritten with his boyhood friend, novelist Nelson DeMille in 1998 and remains on DeMille's extensive backlist. "Mayday" became a CBS Movie of the Week in October, 2005.
Other novels by Block include "Orbit" (a top bestseller in Germany, among other nations), "Airship Nine", "Forced Landing" (also done as a radio serializatoin drama in Japan), "Skyfall", "Open Skies" and "Captain". Thomas Block is still writing both fiction and non-fiction, and has edited and updated his earlier novels into ebooks of all the major formats and also into new full-sized (trade soft cover) printed versions.
Block's magazine writing began in 1968 and over the next five decades his work has appeared in numerous publications. He worked 20 years at FLYING Magazine as Contributing Editor, and as Contributing Editor to Plane & Pilot Magazine for 11 years. Block became Editor-at-Large for Piper Flyer Magazine and Cessna Flyer Magazine in 2001.
During his long career as an aviation writer he has written on a wide array of subjects that range from involvement with government officials to evaluation reports on most everything that flies. Block has piloted gliders, seaplanes, the Goodyear Blimp, warplanes and many large transport jets, to name just a few categories from his logbook. He has owned more than a dozen light airplanes.
An airline pilot for US Airways for over 36 years before his retirement in April, 2000, Captain Thomas Block has been a pilot since 1959. Born February 11, 1945, Block has accumulated 30,000+ hours of flight time since his first solo on his sixteenth birthday. He holds an Air Transport Pilot rating in numerous large aircraft. Block flew the Trans-Oceanic routes for US Airways in the Boeing 767 to a cross-section of European cities for the last decade of his airline career. Block is also rated for single and multi-engine land and sea aircraft, and gliders.
Since 2002, Thomas Block has lived on a ranch in Florida with his wife Sharon where they board, compete and train horses. The Ranch website (www.FlyingB-Ranch.com) contains additional information about Thomas Block's novels and his other writing activities.

About the Book:
'Captain' is his most ambitious, intricate and action-packed aviation tale yet . It is a chilling and all-too-real story about a routine Trans-Atlantic airline flight that suddenly turns absolutely insane. In the doomed airliner's cockpit, inside the passenger cabin and on the ground, a complex array of characters have been propelled at jet speed into a sudden and frantic race for survival. 'Captain' is about the individual and collective struggles of each of these men and women as they attempt to deal with and ultimately fight against the odds and circumstances that are stacked against them.
'Captain' is a novel that pits man against man while also pitting man against machine. It is a story about the need for human judgments, hard-learned experiences, gut feelings and unbridled perseverance in an effort to rise up against a world where the strict adherence to written rules, regulations and procedures have been accepted as the norm.
'Captain' is about the way real airline pilots think, feel and react, especially after those giant airliners that they've strapped themselves to have suddenly turned vicious and unpredictable.
Disclosure: This tour was brought to you by Karma Media. As a participant of this book tour, I received a copy of the book in hardcopy or ebook format for the purposes of sharing my honest review with you.
If you are interested in joining Karma Media Book Tours or would like to explore the possibility of having Karma Media feature your book or series, we invite you to visit our team website at www.karmamediateam.com